Investor Relations

Individual Clients

For Business

Financial Institutions
​​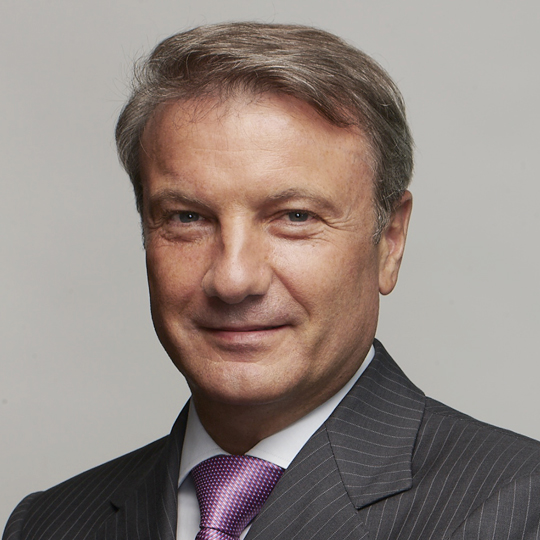 ​​​​​​​
Herman Gref
CEO, Chairman of the Executive Board of Sberbank

Member of the Supervisory Board of Sberbank

Executive Director

Member of the Strategic Planning and Sustainable Development Committee

Years of election to the Supervisory Board: 2005 – 2021
Mr. Gref's equity interest in the share capital of Sberbank: 0.0045%.
Mr. Gref's holding of the ordinary shares of Sberbank: 0.0044%.
He has no family relationships with the other persons who are members of Sberbank's management bodies and bodies supervising Sberbank's financial and business operations.

Background
Herman O. Gref was born on February 8, 1964 in Panfilovo, Ertis District, Pavlodar Region, Kazakh SSR.
In 1990, he graduated from the Law Faculty of Omsk State University named after F. Dostoevsky majoring in Law; 1993 – postgraduate studies in the Law Department of St. Petersburg State University; 2011 – PhD in Economics Candidate of Sciences (PhD) in Economics.
In 1991-1992, he was a category 1 legal counsel to the Economic Development and Property Committee of the Administration of Petrodvorets and St. Petersburg.
In 1992, he was appointed Head of Petrodvorets District Agency, Committee for City Property Management, St. Petersburg Mayor's Office.
In 1992-1994, he was Chairman of the Property Management Committee and Deputy Head of the Administration for the town of Petrodvorets.
In 1994, he was appointed Deputy Chairman and, later, First Deputy Chairman of the Committee for City Property Management, St Petersburg Mayor's Office.
In 1997–1998, he was Vice Governor, Chairman of the Municipal Property Committee, St. Petersburg Mayor's Office.
In 1998–2000, he served as the First Deputy Minister of State Property of the Russian Federation.
In 2000–2007, he was Minister of Economic Development and Trade of the Russian Federation.
Since November 2007, he has been the CEO and Chairman of the Executive Board of Sberbank.
For outstanding achievements in banking and personal contribution to the development of Sberbank, Mr. Gref has been awarded the Gold Seal of Sberbank.
Orders For Merit to the Fatherland, Classes II, III and IV.
Order of Alexander Nevsky.
P.A. Stolypin Medal, Class II.
Certificate of Honor of the President of the Russian Federation;
Order of Holy Prince Daniel of Moscow, Class I.
Officer of the Legion of Honour (the highest distinction of France).