Investor Relations

Individual Clients

For Business

Financial Institutions
Members of the Supervisory Board of Sberbank Participate in IT Training
Members of the Supervisory Board of Sberbank got together at the Central Head Office to participate in the training session on current developments in the information technology of the financial sector. The session is another turn in the tailored training cycle for members of the Supervisory Board of the Bank. The Board members learned about state-of-the-art information technology, leading trends in the financial sector, and innovations in the industry (artificial intelligence, machine learning, big data).
The Bank's IT specialists spoke about modern cyberthreats and main cybersecurity assurance methods, and covered biometric reality. Virtual reality was also demonstrated: Supervisory Board members sat at a virtual roundtable and used presentation materials in the virtual world. They also went on a virtual apartment selling tour using a sales support tool developed for the Mortgage Lending Center of Sberbank.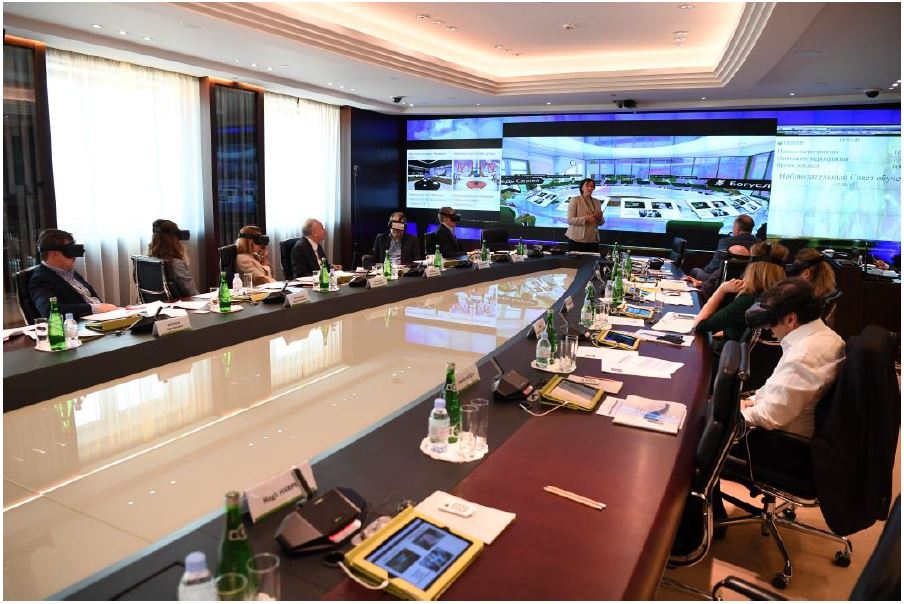 Members of the Supervisory Board and Ekaterina Frolovicheva, Head of Center for Technological Innovations of Sberbank, during the Virtual and Augmented Reality session
Latest advances in artificial intelligence and neural networks were covered. Board members witnessed an example of modern machine learning technology represented by self-learning two-dimensional movement model.
The Bank's key top-managers of IT participated as speakers, and they were joined by Hugh Harper, partner of Ernst&Young – EMEIA Strategy and Operations Leader at EY for Financial Services.
Hugh Harper shared his observations on trends in financial innovation and technology in the leading foreign financial institutions, and underlined the major barriers associated with implementation of breakthrough solutions. Additionally, Hugh drew the audience's attention to the fact that innovation is recommended for the formation of new business and expansion of strategic opportunities, as well as to improve and enhance the effectiveness of already implemented operational and technology solutions.
Participants highly appreciated the organization of training and the actuality of topics. Nadya Wells, an independent member of the Supervisory Board of the Bank, pointed out:
"Today the banking sector is one of the most innovative. Using modern technology is simply necessary to meet the expectations of the modern consumer. So, it was very interesting for me to learn about the technological trends of the banking industry. The program was very informative and captivating".