Investor Relations

Individual Clients

For Business

Financial Institutions
Sberbank Supervisory Board Members Took Part in Strengthening the Rationality and Integrity of Financial Organization Directors Discussion Panel of 27th International Financial Congress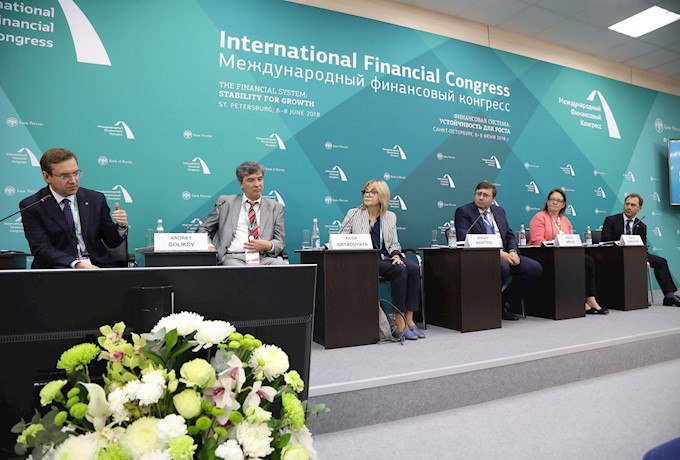 *Image © Roscongress Foundation
Members of Sberbank Supervisory Board Sergei Shvetsov and Nadya Wells at Discussion Panel: "Strengthening the Rationality and Integrity of Financial Organization Directors: A Toolset" of the 27th International Financial Congress: "The Financial System: Stability for Growth"
On June 6-8, 2018 Saint-Petersburg hosted the 27th International Financial Congress "The Financial System: Stability for Growth" ("Congress", "IFC-2018") organized by the Bank of Russia and the Roscongress Foundation with Sberbank as a general partner.
The event welcomed over 1,200 participants and media representatives from 42 countries to discuss the role of the financial system in a country's economic development. Most foreign participants came from the USA, Kazakhstan and the UK.
The Bank of Russia, legislative and executive authorities, foreign regulators and international organizations, major banks and financial companies, professional associations of financial market participants, and renowned international and Russian experts were represented at IFC-2018 panels.
The program of IFC-2018 included more than 30 events and covered all aspects of working in financial markets. Congress participants focused on various aspects of development: the economy, monetary policy, banking, payment system, pensions market, insurance, microfinancing, and financial technologies, to name but a few.
On  6 June issues of corporate governance were on the agenda of the special panel "Strengthening the Rationality and Integrity of Financial Organization Directors: A Toolset", which was attended, among others, by members of the Sberbank Supervisory Board Nadya Wells and Sergei Shvetsov.
The panel dealt with recent high-profile bankruptcies and bail-outs of major financial companies in Russia, which, in the opinion of the speakers, were caused by an inferior corporate governance in those companies.
The panelists also discussed effective composition of a board of directors, the role of independent directors, and the liability of directors, including collective liability.
Nadya Wells pointed out that the composition of a board of directors should be diversified to the largest possible extent, be in line with the company's development strategy, and combine individual competencies and experience that, taken together, would give the board the broadest possible view on issues of the company's business.
In addition, Nadya Wells argued that it is crucial for any director to be continuously improving their expertise and professional skills, which is where the role of a company's Corporate secretary has a particular significance.
This was illustrated by Sberbank's practice of annual performance assessment of the Bank's Supervisory Board where the Corporate secretary conducts a questionnaire survey of its members; the results are then used to summarize the opinions of the Supervisory Board members on the HR needs of the Board and to create professional development programs for its members.