Investor Relations

Individual Clients

For Business

Financial Institutions
Members of Sberbank's Supervisory Board take part in "Evolution of the Board of Directors in the Digital Era" training program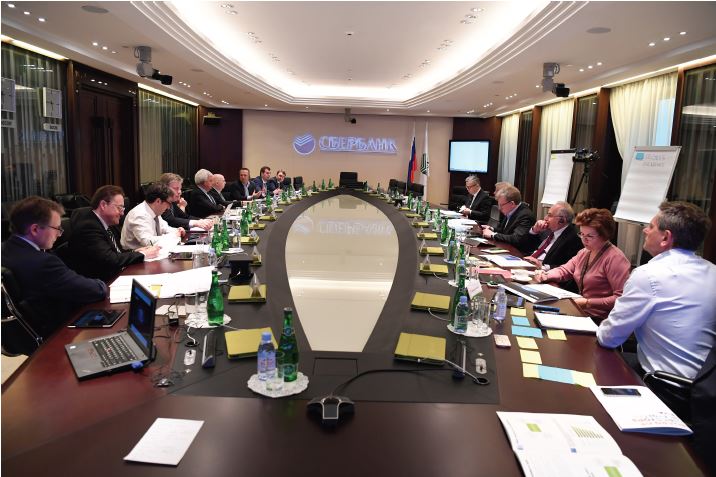 The members of Sberbank's Supervisory Board and event speakers taking part in the "Evolution of the Board of Directors in the Digital Era" training module
March 20, 2017, Moscow – Member of the Supervisory Board of Sberbank took part in the training program "Evolution of the Board of Directors in the Digital Era" focused on topical issues and practices in corporate governance, which was designed and delivered by experts from RANEPA and INSEAD Business School.
The program was delivered in the interactive roundtable format where short expert presentations were intertwined with discussions and electronic express voting.
Event speakers included renowned international experts and Russian hands-on experts: Professor Stanislav Shekshnia (INSEAD Business School), who also served as the roundtable moderator; Dr. Roger Barker (ex-Director of Corporate Governance and Professional Standards at the Institute of Directors Department (IoD, UK); Stefan Dierks (Founder and Managing Partner of Deloitte's Data Analytics Institute), Alexey Minin (Head of Deloitte's Applied Data Analytics Institute, CIS).
The program covered issues of enhancing the efficiency of the Board of Directors: use of advanced communication approaches at meetings of the Board of Directors, and the application of Agile methods in activities; use of information technologies for setting agendas of Board meetings; analyzed were the most topical issues on the agenda of meetings which are discussed at the meetings of the Boards of Directors at major global banks and companies.
The general consensus among the members of the Supervisory Board was that the training program delivered was extremely interesting, while the interactive discussion and electronic express voting allowed the participants to identify and focus the Board members' attention on the most interesting and relevant topics. In particular, G. Melikyan, Senior Independent Director of Sberbank, has said, "We did like the proposed discussion format. We identified the most interesting corporate governance practices and topics for further discussion. The Supervisory Board has been consistently focused on continuing to enhance corporate governance practices of Sberbank."